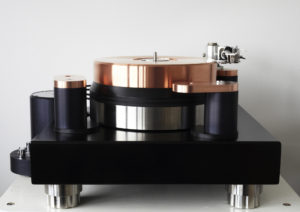 Hartvig Audio presents his new high end master gramophone at the HIGH END in Munich 2018. The Hartvig TT Evolution is all Danish craftsmanship. The turntable brings recorded music alive – it is pure sound with soul.
After many years of passion for hi-fi, Danish Soeren Hartvig set his heart on building a first quality gramophone. "I dreamed about a turntable which would bring recorded music alive in my own living room."
Since 2011 Hartvig Audio has grown with success. The small Danish company has now worldwide distributors and the two first turntable models from Soeren Hartvig's hand are now playing in several contries.
Now it is time for the next level!
The Hartvig TT Evolution ensures an incredible reproduction of sound and distinguishes itself from the digital media as the analog sound is both smooth and reproduces the music down to the last detail.
Soeren Hartvig had already while building his first quality products – the Hartvig TT and the Hartvig TT Signature – the idea of his grand master turntable in mind.
"I've always just wanted to build beautiful turntables – timeless and pure styled in their designs and most important of all: With uncompromising sound!"  
After five more years of testing all kinds of materials in various constructions and after having spent countless hours of listening to the quality of the sound, the Hartvig TT Evolution is now a reality.
To optimize the sound even further, Soeren Hartvig also redeveloped his battery supply for the gramophone. "Playing by means of a battery perfects the reproduction of the sound of the instruments and the vocal and creates a pitch-black background," Soeren Hartvig explains.
Together the TT Evolution and the enclosed Battery Supply ensure the first quality sound and raise the analog medium to yet another level.
Handcrafted in Denmark
All products are still designed, developed and handcrafted in Denmark of the best materials. "It is extremely important for me to build quality turntables with longevity," Soeren Hartvig guarantees.
Once again Hartvig Audio's new gramophone is the absolute benchmark in its class. "The Hartvig TT Evolution is pure sound with soul!" states Soeren Hartvig.
Want to learn more?
Contact Soeren Hartvig on the telephone +45 40 59 18 23 or visit www.hartvigaudio.com.
Meet Soeren Hartvig and experience the Hartvig Sound Universe at the HIGH END in Munich (2018, may 11th to 13th) in Atrium 4, 2nd floor, room F226.